Den irländska sångaren Sinead O'Connor (51) mest känd för sången "Nothing Compares 2 U" har tillkännagivit att hon konverterat till Islam och bytt sitt namn till Shuhada' Davitt.
Den 19 oktober 2018 skrev hon (@MagdaDavitt77) på twitter: "This is to announce that I am proud to have become a Muslim,"This is the natural conclusion of any intelligent theologian's journey. All scripture study leads to Islam. Which makes all other scriptures redundant."
Sedan lade hon till "I will be given (another) new name. It will be Shuhada'."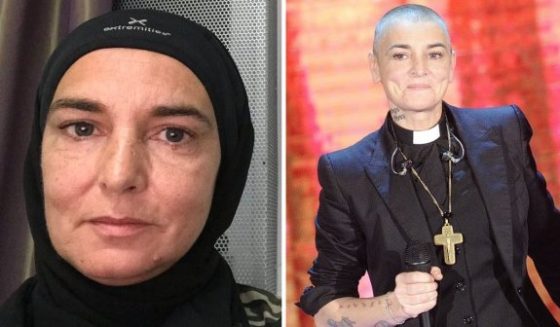 Hennes nya namn betyder på arabiska "one who bears witness" in Arabic. Shuhada' kommer från det arabiska ordet Shahada, en islamistisk deklaration av tron på att det bara finns en gud och mohammed är hans profet. Namnet betyder även "martyrer" på arabiska.
The name also means "martyrs" in Arabic.
Så sent som 2017 ändrade hon sitt namn till Magda Davitt, ett namn hon tog för att som hon sade bli fri från föräldraarvets förbannelse.
Sångaren har ersatt sin twitterprofil med ett foto där det står: "Wear a hijab just do it" alongside the Nike logo.
Sångerskan har tidigare varit katolik och blev 1999 titulerad präst av en biskop i "fringe Catholic Latin Tridentine Church in Lourdes i frankrike där hon kallades "Mother Bernadette Mary".
Sinéad O'Connor har varit gift fyra gånger. År 1989 ingick hon äktenskap med musikproducenten John Reynolds. Det andra äktenskapet ingicks 2002 med musikjournalisten Nicholas Sommerlad. År 2010 gifte hon sig med musikern Steve Cooney, ett äktenskapet som varade mindre än ett år. År 2011 gifte O'Connor sig med sin fjärde make, terapeuten Barry Herridge men äktenskapet varade endast i 16 dagar. Sinéad O'Connor har fyra barn.
År 2000 berättade O'Connor att hon är lesbisk. Senare ändrade hon tidigare uttalanden och i maj-utgåvan 2005 av Entertainment Weekly uttalade hon att hon var tre fjärdedels heterosexuell och en fjärdedel lesbisk.
Sinéad O'Connor har också väckt uppmärksamhet genom att ha talat öppet om sin psykiska ohälsa.